Lodger Agreement
| | | | |
| --- | --- | --- | --- |
| | Available for instant download | | Available in multiple formats |
| | Customisable documents | | Saves both time & money |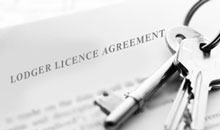 This lodger agreement sets out the standard terms for an agreement between landlord and lodger who intends to rent a room in the landlords' property.

This agreement makes provision for standard agreement terms including rent amount and rent review period, additional services and charges, pets, payment by standing order, permitted usage of the room and other rooms in the house, length of the term and other standard provisions. The agreement is easily altered to suit your needs and will cover all situations of a landlord renting a room in a property in which he or she lives.

The Lodger Agreement is available to download instantly in the following formats:

Microsoft Word document


Rich Text Format (Text File)


If you liked this document please use one or more of the like buttons below

Link to this document
To link directly to this document from your web site or blog, copy the following snippet HTML below and paste it onto your site.
Lodger Agreement