Notice of Late Payment
| | | | |
| --- | --- | --- | --- |
| | Available for instant download | | Available in multiple formats |
| | Customisable documents | | Saves both time & money |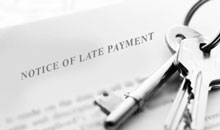 Let your tenant know they have missed a payment and firmly tell them that you expect payment to be made by the date given in the letter. If you keep on top of your rental payments your tenant will be alert and less likely to miss agreed payment dates.

The Notice of Late Payment is available to download instantly in the following formats:

Microsoft Word document


*** Package Savings ***

This document can be found in the following package(s) designed to save you money
-
Complete Landlord Saver Pack
comprises of 13 documents worth £53.87, saving you £33.88
£19.99
If you liked this document please use one or more of the like buttons below

Link to this document
To link directly to this document from your web site or blog, copy the following snippet HTML below and paste it onto your site.
Notice of Late Payment