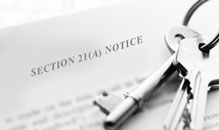 A Section 21(4)(a) Notice Requiring Possession is a legal document used by a Landlord in cases where he wishes to enforce his rights under the Housing Act 1988 and obtain repossession of his Premises at the end of a tenancy.
This Notice may only be used for an Assured Shorthold Tenancy in cases where the tenancy is a periodic tenancy as opposed to a fixed term tenancy. A fixed term tenancy is where the tenancy is granted for a specific length of time, e.g. 12 months. A periodic tenancy is where there is no specified length of time involved but the tenancy will carry on for additional specific periods, usually determined by the frequency of rental payments, e.g. monthly or quarterly. A fixed term tenancy will automatically turn into a periodic tenancy once the specific length of time has expired, unless the parties reach a new agreement or terminate the tenancy.
The Landlord must give the Tenant(s) a minimum of 2 months notice and the day on which the Notice expires must be the last day of a period of the tenancy. The period of a tenancy will depend on how often the rent is paid. Therefore, if rent is paid monthly then the period of the tenancy is one month. The periodic tenancy begins immediately after the fixed term tenancy expires.
For example, if the period of the tenancy is monthly and the first day of the current period is 1 June then the last day of that period will be 30 June and so a notice served during the current period (i.e. in the month of June) will need to be completed so as to expire on the last day of a period after a further two months (i.e. 30 August). It is crucial that the Tenant(s) be given a minimum notice period of 2 months and one should rather err on the side of caution and provide more notice than risk the Notice becoming invalid due to lack of sufficient notice.