Assured Shorthold Tenancy Agreements
| | |
| --- | --- |
| | |
| | | | |
| --- | --- | --- | --- |
| | Drafted by a specialist solicitor | | Written in plain English |
| | Complete with Explanation notes | | Together with a completed example |
| | Available for instant download | | Available in multiple formats |
| | Customisable documents | | Saves both time & money |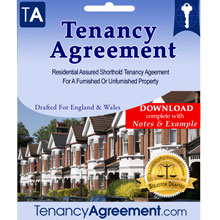 An Assured Shorthold Tenancy agreement is a residential tenancy agreement where the annual rent is less than £100,000 and the initial fixed term is for a period of not more than three years. It provides the Landlord with an assured tenancy in that the Landlord has a guaranteed right to repossess his property at the end of the term.

The Housing Act 1988 as amended by the Housing Act 1996 provides requirements for AST agreements. Some of the more important requirements are that the Tenant must be an individual, the dwelling must be separate accommodation, and the dwelling must be the Tenant's main or principal home. The agreement cannot be an AST agreement where the Tenant is a company, where there is no rent, low rent or high rent (above £100,000).



Other important exclusions include holiday lettings, tenancies granted by a resident Landlord (a Landlord who lives in the same property as the Tenant), tenancies let with property of more than 2 acres of agricultural land and tenancies entered into before 15 January 1989. This agreement is particularly suited to properties (either houses or flats) where the property does not have a garden and is rented as a furnished property.

This agreement contains the following clauses:
1. Definitions
2. Parties
3. Property
4. Term
5. Rent
6. Deposit
7. Tenant's Obligations
8. Landlord's Obligations
9. General
10. Special or Additional Clauses
11. Signature of the Parties
The tenancy agreement templates are available to download instantly in the following formats:

Microsoft Word document


If you liked this document please use one or more of the like buttons below

Link to this document
To link directly to this document from your web site or blog, copy the following snippet HTML below and paste it onto your site.
Assured Shorthold Tenancy Agreement